HNRNPH2 News - 2022 Third Quarter Newsletter
HNRNPH2 News - 2022 Third Quarter Newsletter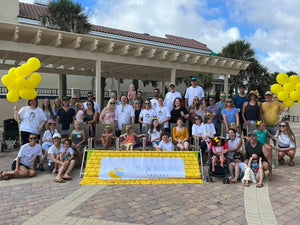 2022 Third Quarter | Yellow Brick Road Project HNRNPH2 New
Inside this Issue
Featured Family:  Meet Emma
Spotlight On: Genetic Diagnosis Matters
2022 Annual Conference & Family Meeting
Strategic Scientific Review
YBRP Bricklayers Program & New Members
Featured Family: Meet Emma
Emma is 12 and she lives in Altrincham (U.K.) with her parents. Emma was born naturally with induced labour. She was a very happy little baby but often very laid back. She rolled over at 3 months and learned to sit up at 6 months. We realised that something was not quite right when she wasn't hitting milestones. She never crawled or walked. We contacted the paediatrician and all the investigations began. She was tested for Angelman, Fragile-X and Rett Syndrome. All the tests came back negative including an MRI scan of her brain. They diagnosed her with Global Developmental Delay.
We enrolled in the Genome study and finally in 2018 we learned that she had a very rare genetic condition called HNRNPH2. We got in touch through social media with the HNRNPH2 community on Facebook.
Finally, we had some answers and we were connecting with people who were in the same position as us. Other families with whom we can talk, ask questions and have a chat and they understand and know because they are in the same shoes. The similarities with other children and young adults are incredible. We are not alone.
Emma is a happy, smiley young lady with a great sense of humour. When you meet her, she charms you with her smile. She is non-verbal but we are trying and will continue to try to use a communication device and hopefully she will get to use it more often. Emma uses her wheelchair to move around, she can stand up with support or in her standing frame but has never initiated independent steps. She had bilateral hip surgery done and recently has been diagnosed with scoliosis. She is wearing a Boston brace daily to stop her spinal curvature progressing. In her recent spinal review, we learned that her spinal curvature has improved due to her wearing the brace. Emma is working very hard on self-feeding skills which are improving.
She loves music, books, TV shows, messy/water play, baking and bowling. Emma likes going on outings like the park, zoos and the cinema. She doesn't like sudden loud noises or she can get overwhelmed with big gatherings and crowds. She has started secondary school which she likes very much. She has hydrotherapy, speech and language therapy included in her curriculum.
The Yellow Brick Road Project organisation together with researchers are looking into a potential cure for this genetic condition, which would be extraordinary for everyone affected. There is always hope and we will never lose our belief that our daughter's condition could be improved or cured.
Spotlight On: Genetic Diagnosis Matters
Receiving an HNRNPH2-Related Disorder diagnosis is a life-changing experience for our patients' families. Connecting with other families, receiving information specific to your child's condition and keeping informed on potential treatments are just some of the benefits to having a diagnosis. However, we know that there are many more families out there who have a loved one with an HNRNPH2 mutation who haven't received that diagnosis yet, and we want to let the world know why it's so important.
The Outreach and Action Committee has created a Genetic Diagnosis Matters campaign to get this message out to anyone who might be wondering if having a genetic diagnosis will really make a difference. Stay tuned to the YBRP's social media channels for the release of a new video for you to share to help us spread the word.


2022 Annual Conference & Family Meeting
After two years of meeting virtually because of the Covid-19 pandemic, the Yellow Brick Road Project was delighted to host our annual conference and family meeting in person this year at the beautiful Ponte Vedra Lodge and Club in Jacksonville, Florida.
Sixteen families attended in person from across five different countries, and fifteen patients with HNRNPH2-Related Disorder took part in assessments for the Natural History Study as well as contributing to a biorepository to enable further research.
Over the three days of the conference, the leading experts in HNRNPH2-Related Disorder research from around the world presented their current findings, families had many opportunities to socialize and share experiences with each other, and everyone participated in a short walk down the beach to kick off the 2022 HNRNPH2 Awareness Week.
YBRP would like to thank all the presenters for sharing their expertise with our families. 
Dr Jennifer Bain (and the entire Natural History Study team), Columbia University

Dr Christopher Ricupero, Columbia University

Dr Ane Korff, St Jude Children's Research Hospital

Kristin Stephenson, St Jude Children's Research Hospital

Dr Ela Elyada, Andlit Therapeutics

Prof Rotem Karni, Andlit Therapeutics

Noelle Germain, Ovid Therapeutics

Sophia Cacciatore, Ovid Therapeutics

Dr James Eubanks, Krembil Research Institute

Aliza Fink, NORD
Presentations were also made available virtually to any families not able to attend in person.
2022 Awareness Week & Virtual Walk
Our 3rd annual HNRNPH2 Awareness Week was a great success, raising more than $20,000!
Through our 2nd annual Walk Your Way HNRNPH2 walk and the Over the Rainbow campaign that detailed how the journey along the yellow brick road in the Wizard of Oz symbolizes our patients' journey towards a cure, families around the world raised awareness and mobilized their friends and families to come together to raise vital funds that will help move us closer to the goal of a treatment for all our patients.
Simons Searchlight and n-Lorem Foundation were just two of our partners who shared information about HNRNPH2 over the course of the week to help shine a light on this ultra-rare condition. 
YBRP Strategic Scientific Review
The conclusion of the two-year project that the YBRP funded with Andlit Therapeutics presented the board with an opportunity to review the current landscape of HNRNPH2 research and the role of the YBRP within it. Working with independent neuroscientists through the COMBINEDBrain organization, the board undertook a strategic scientific review to help determine the best use of our time and resources as a patient advocacy organization as research continues to move forward and bring us close to clinical trials for treatment.
The strategic plan and its recommendations are still being reviewed, but we have already initiated discussions into expanding the natural history study with satellite researchers working in conjunction with the primary investigator, Dr Jennifer Bain, and we have held our first HNRNPH2 stakeholder meeting to encourage and facilitate collaboration amongst all those dedicated to research and treatment of HNRNPH2-Related Disorder.
Full details of the plan and our funding priorities will be shared with our parent network and on the website as soon as they have been finalized.
Matrix Patient Registry
In July, YBRP launched its new patient registry in partnership with Matrix. Data about our patient population is one of the most important assets we have as a patient organization, especially as we move closer to clinical trials, and by teaming up with Matrix, we can build a strong registry with all the information researchers will need as they work to bring forward a treatment for our patients.
One of the limitations of any patient registry is the language barrier that can prevent access to some of our patients around the world. YBRP has teamed up with other members of COMBINEDBrain to tackle this problem by engaging certified translation of the surveys being housed on Matrix. By the end of October 2022, the general health surveys will be available in five different languages, and we will continue to work on expanding that to include as many of our patients as possible.
If you are the caregiver of a patient with HNRNPH2-Related Disorder and have not signed up with Matrix yet, please visit https://ybrpx.acrossmatrix.com/#/user-request to get started.
New Publications
Earlier this year, the team at St Jude Children's Research Hospital published the findings of their HNRNPH2 research on BioRx. The paper summarizes their work with mouse models of HNRNPH2-Related Disorder and a potential avenue for treatment.
The full paper can be found here: https://www.biorxiv.org/content/10.1101/2022.03.17.484791v1
In September 2022, Dr Jennifer Bain and Dr Sehajvir Madhok published the first comprehensive gene review of HNRNPH2-Related Neurodevelopmental Disorder which summarizes the clinical characteristics, diagnosis and management of the condition.
The review can be found on the NIH National Library of Medicine: https://www.ncbi.nlm.nih.gov/books/NBK584018/
New Bricklayer Members
YBRP's corporate sponsorship program is delighted to welcome two new Bricklayer companies who are helping us build the road to a cure. Urban Core Construction and Keel Custom Homes have each donated a Ruby level sponsorship. We are so grateful for your support!
If you would like to invite a company to become a Bricklayer through our sponsorship program, please visit the Bricklayer Program on our website. 
Amazon Smile

Don't forget that using AmazonSmile is also a great way to increase donations to the YBRP, at no additional cost to you! Any purchases made through AmazonSmile (which has all the same products and prices at Amazon.com) come with a donation of 0.5% of the purchase price to the charity of your choice.

On your first visit to AmazonSmile - smile.amazon.com - you'll be asked to select a charitable organization. Please search for "YBRP Inc".      

YBRP offers a wide variety of products that help raise awareness and contribute to the cause all at the same time!  100% of Proceeds go toward funding YBRP initiatives!
Thank You for Your Continued Support!
As always, we want to thank you for your continued support!  It enables us to continue this important work of furthering our mission to connect families impacted by HNRNPH2 and further research into this ultra-rare disorder.  We couldn't do it without you!
Sent from The Yellow Brick Road Project
280 Ronbru Dr., New Rochelle, New York, United States